Vital Sign Monitors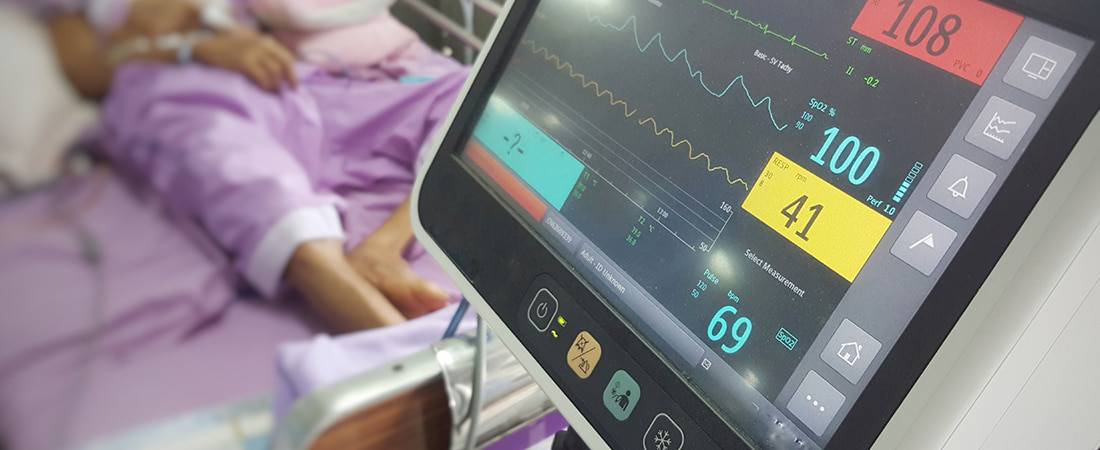 Quality Reconditioned Vital Sign Monitors at Terrain Biomedical
A person's vital signs – also known simply as signs of life – generally include the following measures: heartbeat, temperature, blood pressure and respiratory rate. When these measure are above zero it indicates that the person is, in fact, alive. All of these vital signs can be monitored and measured to allow for the evaluation of the level at which a person is functioning.
Environments where Vital Sign Monitors are used: The point of recording vital signs is to set a baseline upon admission to a clinic, doctor's office, hospital or other care facility. Vital signs can be recorded by a physician, nurse, physician's assistant or other care provider. Some of the Vital Sign Monitors we offer at Terrain Biomedical are:
The Datascope Accutorr Plus – multiple-parameter monitor that's ideal for screening in addition to preop and postop areas. A portable Vital Sign Monitor weighing under five pounds, the Datascope Accutorr Plus is able to measure noninvasive blood pressure, pulse rate and blood oxygen levels. Available with features such as Nellcor or Masimo pulse oximetry, temperature readings and a recorder device.
-User designed settings for multiple care environments
-Automated battery power saver
-Lithium Ion battery (replaceable) and universal power supply
-Universal mount adapter for rolling stands or a wall mount
-Options like Nellcor or Masimo SpO2, Temperature and Recorder
-Multiple-parameter monitoring for measurement of NIBP, pulse rate and SpO2.
-Capabilities up to one hundred measurements.
Reconditioned Connex Spot Vital Monitors
Features a convenient, touchscreen display that provides precise vital signs monitoring of spot checking, blood pressure averaging and customized scoring. The unit is connected (wirelessly) to your facility's EMR and sends vital sign information to the patient's chart from the point of caregiving to help increase efficiency.
-SureBP® technologies provide blood pressure measurements in just around 15 seconds
-Connex Scoring Application calculators for customized protocols
-Blood Pressure averaging to assist accurate diagnosis of hypertension
-Supports staff workflows for long-range care environments
-Partners with over 90 EMRs including Cerner and Epic
-Choice of SpO2 technology: Nonin, Masimo® and Nellcor®
-Can be added for integration of wall systems for comprehensive patient examination workflow
-Mobile stand options including work surface with integrated battery for long-term use
Reconditioned Connex Vital Monitors
The Connex Vital Signs Monitors are an efficient, touch screen monitor displaying vivid colors and minimal buttons for easy cleaning, better workflow and convenient training. Adaptable for all types of health care facilities, it tracks pulse oximetry, temperature and blood pressure. For physician's office settings, we also carry a dedicated blood pressure average program to help lower risk of incorrect diagnosis of hypertension resulting from White Coat Hypertension.
For hospital environments, this monitor provides profiles supportive of multiple workflows like spot check vital signs, triage and continual monitoring of high acuity patients. Additionally, the unit has the capacity to display clinicians with warnings signs to assist in proactively intervening to lower patient falls, respiratory distress and ulcers. In hospital settings these Vital Sign Monitors also have the capacity to communicate by wireless technology to an EMR.
-SureBP® supportive of all ages and offers 15-second readings while the cuff is inflating
-Optional SureTemp® Plus or Braun ThermoScan® PRO 4000 Ear Thermometry
-Nellcor® Pulse Oximetry (SpO2) Algorithms (optional) or Nellcor
-Wireless capabilities for electronic medical records
-Masimo SpHb non-invasive continual tracking of hemoglobin (also optional)
-Option of EarlySense® no-contact respiration monitoring, motion sensor
-Option of Masimo® Acoustic Respiratory Monitor
-Blood pressure averaging and custom interval readouts
-Health o meter®, Detecto Weight Scale and Seca
Like all the quality reconditioned equipment we stock at Terrain Biomedical, our inventory of Vital Sign Monitors are in compliance with OEM specifications.