Patient Monitors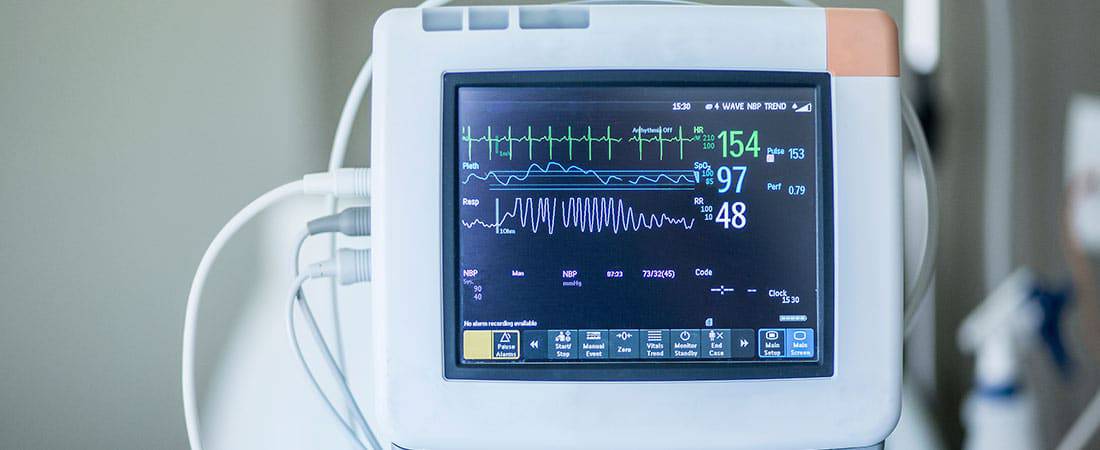 Patient Monitors at Terrain Biomedical
Patient monitors are utilized in a wide variety of applications from monitoring of basic vital signs and critical care to surgery applications. Terrain Biomedical restores and reconditions patient monitors for these various environments to track parameters that includes CO2, EKG, NIBP, SpO2 and five agent analysis.
At Terrain Biomedical we offer patient monitors in these categories:
Vital Sign Monitors: all signs of life including the following measures for a patient: pulse, temperature, blood pressure and respiratory rate. When these signs are not at zero they are indications that a patient is alive. All of these vital signs can be monitored, observed and measured, which enables the evaluation of the levels at which a person functions.
Usage Environments: The main function of recording a person's vital signs is to clearly establish a baseline upon admission to a care center, hospital, physician's office or other general interaction with a health care provider. Vital signs can be recorded and observed by a physician, a nurse, a physician's assistant or other type of care provider.
Continuous patient monitoring is a practical tool that offers information to a medical staff on the status of a patient. Utilizing this timely information, a medical staff can assess a patient's current condition and make the most appropriate decisions on treatment.
These systems typically will include a centralized station monitor that will receive, consolidate and display information. Additionally, monitors that are positioned close to the patient – bedside monitors – provide data from the patient such as their respiratory rate, EKG, invasive and noninvasive blood pressure, body temperature, mixed venous oxygenation and more.
Environments: Hospitals, inter-hospital and intra-hospital transporting and general medical and surgical care locations.
Other commonly used names for patient monitors are: operating room monitors, vital sign monitors, acute care monitoring systems, neonatal monitors, single-patient monitors, measuring and monitoring systems, bedside unit, patient transport monitoring, acute care monitor and physiologic monitoring systems.
With Terrain Biomedical our customers have the option of purchasing medical equipment or renting medical equipment for short-term and long-term use. Contact us to learn more.
Anesthesia Monitors
In general, when performing most types of surgical procedure involving the administration of an anesthetic, medical staff will need an anesthesia monitor they can rely on. Terrain Biomedical provides a wide selection of quality new and used anesthesia monitors that have the sort of features that clinicians need such as waveform display, multi-lead ECG monitoring, optional wireless connectivity, anesthetic five agent bench, EtCO2, SPO2 and more.
At Terrain Biomedical, we sell and service patient monitors from many of the leading brands in the industry like General Electric, Mindray/Datascope Philips and many more.
Our company has been servicing and selling high quality anesthesia monitors since 2006. We assure that all of the anesthesia monitors we stock are calibrated and comply with OEM specs for optimal performance.
MRI (Magnetic Resonance Imaging) Monitors
Standard monitors and accessories were generally not manufactured to function in the magnetic resonance environments that use electromagnetic fields. These types of environments can negatively impact or even alter the function of these kinds of medical devices.
Healthcare providers have to consider a few different factors when it comes to effective patient care that includes identifying and adhering to correct protocol to assure safety. Terrain Biomedical, fortunately, carries the Invivo 3160 Precess Monitor and System. This innovative device was specifically made for these modifications and to operate correctly during an MRI procedure.
During sound patient care and patient monitoring, the Invivo 3160 helps to indicate if vital sign parameters are consistent and helps to identify concerns related to respiratory or cardiac issues.
Reconditioned and Restored Patient Monitors
Terrain Biomedical stocks reconditioned, quality patient monitors from trusted manufacturers in the field including: Spacelabs, GE, Mindray, Datex Ohmeda, Datascope, Phillips and more.
Patient monitors are thoroughly tested and officially certified by our company's well-qualified biomedical engineers and service technicians. Monitors are reconditioned to their initial OEM specs. All the patient monitors we carry are fully warrantied and delivered ready for use and fully equipped with a complete line of accessories. Like the other medical equipment we have available, patient monitors can be rented or purchased.
Products and Professional Services for Patient Monitoring
*Fully-Calibrated and Performance Tested.
*Five-Agent Gas Modules
*Monitor Accessory Kits, Lithium-Ion Batteries, Comports for Networking, SLA Batteries, Mounting Brackets, Rolling Stands and more.
About Calibration and Performance Testing at Terrain Biomedical
To offer patients the finest level of care possible, medical facilities and care practitioners have to assure that their equipment fulfills the needs of each and every patient. However, new medical devices and equipment can cost a great deal. For a lot of private medical care providers it is simply beyond their budgetary reach to buy all the new devices and equipment they may need. At Terrain Biomedical, we offer the option of renting used medical equipment that has been reconditioned. This creates a more affordable alternative for our clients.
Because the cost of new medical equipment can be so high, there are many practitioners who choose to purchase certified, preowned equipment. Or, some choose to get their equipment assessed for reconditioning or replacement. These practices are frequently the smart solution for facilities with limited budgets. Whether purchasing used equipment or restoring current equipment, it's critical to know what you're getting.
Certified Refurbished Medical Equipment
At Terrain Biomedical our equipment undergoes a detailed multi-step inspection to verify that it is in compliance with the industry's performance requirements. Necessary repairs and adjustments are performed in accordance to OEM specifications and the medical equipment is then certified and tested to function like new.
Large Inventory of Medical Accessories
Medical equipment users, repair technicians, clinical engineers and other clients who do their own repairs and maintenance can all benefit from our company's big selection of medical accessories and parts.
Among of the biggest and most recognized medical accessories and parts suppliers in the USA, Terrain Biomedical stocks practically everything from the tiniest components to the biggest medical equipment. We will frequently assist our clients in identifying the right parts or accessories they'll need to keep their medical equipment working in good condition. As medical equipment and parts consultants, we can also provide expertise in a wide selection of applications for hospitals, clinics, ambulatory surgery centers and treatment centers.
Medical Parts Resources
Every type of medical part or accessory that arrives at Terrain Medical's facilities in Elk Grove Village
is rigorously tested before getting certified by our engineers to verify 100 percent working condition. Our valued clients know they can depend on us for not only a volume of accessories and parts but for high quality as well.
We Have the Patient Monitors, Parts and Accessories Your Medical Facility Needs
Since we're recognized for our inventory of parts and accessories, we will receive quite a few unusual requests now and then from our clients. Just a few of the most popular accessories and parts we have in stock includes: blood pressure hoses and cuffs, EKG and IBP cables, batteries, carts, rolling stands,
pacing cables, SpO2 finger sensors and extension cables, temperature sensors, defibrillator paddles and
hospital grade power cables.
Get in touch with Terrain Biomedical today for all your medical equipment, Patient Monitors, parts and accessory needs at 773-697-8400.