Electrosurgical Units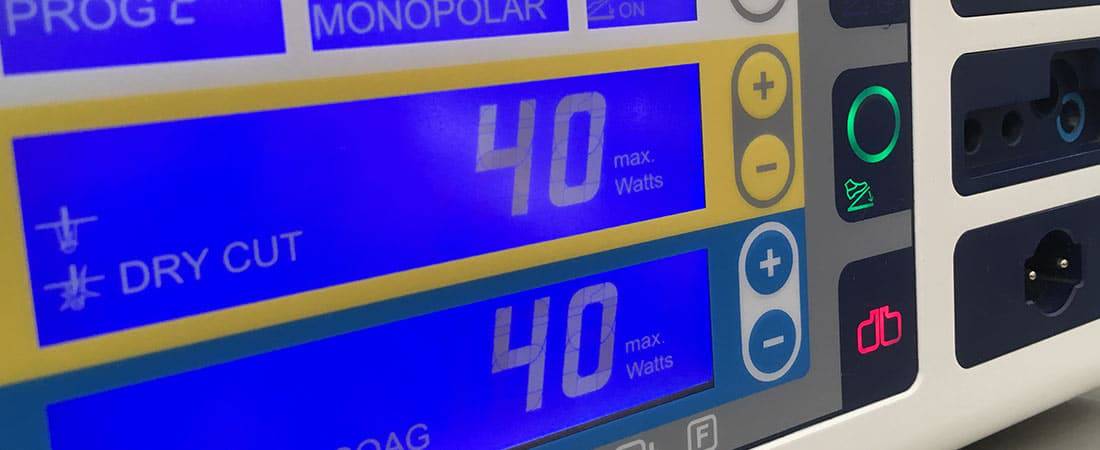 Terrain Biomedical – Refurbished Electrosurgical Units
Terrain Biomedical is a leading reseller of high quality pre-owned and certified electrosurgical equipment units in the medical equipment field. Our service techs can repair all varieties of electrosurgical unit manufacturers, with specialization in brands such as Erbe, Valleylab, ConMed and Covidien generally because it is our belief they are among the most user friendly and dependable models currently available.
Electrosurgical Unit Rentals, Repairs, Certification and Calibration
All of the restored and refurbished electrosurgical units available for purchase at Terrain Biomedical are thoroughly tested and officially certified. If your facility is not yet ready to make a purchase, we provide an excellent rental program that is sure to meet your needs for the short and long term.
High Quality, Versatile Equipment
The electrosurgical units we stock at our facility can be utilized for many different applications – ranging from standard, routine functions to the most sophisticated surgeries. We provide electrosurgical unit models that feature several configurations to support every purpose and we also have customized configurations of electrosurgical unit carts and related accessories. We have constructed a number of customized systems for numerous clients across the nation.
All electrosurgical units at Terrain are refurbished in accordance with the specifications of the original equipment manufacturer. Contact us today to learn more about electrosurgical units at 773-697-8400.
Electrocautery Units Available for Rent or Purchase – Electrosurgical Units
The words electrosurgery and electrocautery may be sometimes confused with each other, and even though each these medical procedures are performed within many specialized areas, they are different with respect to the tools and application method.
The Main Differences Between Electrosurgery and Electrocautery
In electrosurgery, electrical current passes through tissue to attain a desired outcome. The electricity utilized is a kind of alternating current comparable to what is used to produce radio waves. The general frequency is rather high, with the median at approximately 500,000 cycles each second. This assures that the electrical current passes through the patient's tissue instead of generating an electrical shock as a result. The heat is generated by the resistance of the patient's tissue against the electric current and the device used to apply the current are typically electrodes that include blades, needle, round ball and loop configurations. The selection of electrode is based upon the desired outcome. These amazingly efficient instruments can be utilized to make incisions, coagulate or even fuse tissues together.
Electrocautery, on the other hand, relies on an electric current to heat up a metal wire that's then applied on the patient's tissue to burn or cause coagulation of that particular area. It isn't used to pass the electrical current through the patient's tissue, but instead it is directly applied to the specified area of tissue. With this type of technique, heat passes through a metal, resistant wire which serves as an electrode. This heated electrode is then put directly on the treated area to destroy that particular tissue. This usage of electrical current is often generally applied for situations in the areas of dermatology, ophthalmology, plastic surgery, urology and other specialties.
Another obvious contrast between electrosurgery and electrocautery devices are that latter are typically smaller, battery operated devices that use heat to degrade the targeted area of tissue. Electrosurgery devices tend to be more complex radio-wave producers that pass modified electric current through target tissues to attain a desired outcome. The take away when looking at these two terms is generally that electrosurgery is not the same as electrocautery, even though they both are powered by electrical current to perform their treatment purposes.
Applications for Electrosurgery – Electrosurgical Units
Because the electrosurgical process is rather more complicated than electrocautery, there may be some confusion regarding how it is used. There two main methods of applying electrosurgery are monopolar and bipolar. In order to correctly carry out monopolar electrosurgery, a full electrical circuit is needed. This would consist of the electrode, the patient, a return electrode (a grounding plate) and the actual electrosurgical generator unit. In the monopolar technique, the electric current moves from an electrode through the patient's tissue until it arrives at a grounding pad (the return electrode) positioned close to another spot on the patient's tissues, most often on the opposite side of the patient's body.
The bipolar technique involves an electrode and return electrode where the electric current flow from one end to the other end with the tissue positioned in between. A main difference between these is monopolar utilizes a grounding plate in order to direct the electrical current, and bipolar uses opposing electrodes to attain this. Both electrosurgery methods are different from electrocautery because they draw electric current through the patient's tissue instead of using it to heat up an electrode to be put at one exact point upon the tissue.
Terrain Biomedical stocks a wide selection of high quality electrosurgery and electrocautery equipment.
Medical Equipment Repairs – Experienced Biomedical Service Technicians
Regardless of how many precautions care providers and facility managers may take, there are some instances that are simply unavoidable. For those unforeseen circumstances that any business faces from time to time, our biomedical techs provide on-demand repair solutions when our clients need it the most.
Terrain's experienced technicians are available 24/7 to serve your facility's emergency medical equipment maintenance and repair needs. Each of our techs has a background in biomedical engineering, which enables them to assess and resolve problems efficiently and provide solutions that will get your systems back online as fast as possible. We provide depot services or we are able to travel to your facility for on-location repairs.
Preventive Maintenance for Reliable Performance
In order to help prevent emergency equipment situations, we advise our clients to take part in our excellent preventive maintenance plan. It permits our technicians to assess the condition of your equipment on a scheduled basis to determine if service is required before a problem develops.
Electrical Safety Tests
Terrain Biomedical confirms that our medical equipment undergoes testing and is in compliance with electrical safety standards as set by OSHA, the Illinois Department of Public Health and the Food and Drug Administration's Center for Devices and Radiological Health. Any electric equipment within a clinical environment has to be safety tested. All of the testing devices at our full service facility are calibrated yearly to verify correct electrical testing.
Our electrical safety testing begins with a visual assessment. Every device is inspected thoroughly for signs of damage or cracks to the main integrity of each component. We conduct ground bond testing to check that the electric current is accurately grounded, which lessens the risk of a shock to the equipment operator and to the patient. This is particularly important at the connection point between the plug and outlet where devices have to conform to contact requirements.
Terrain Biomedical goes even another step farther than the competition with regards to thorough electrical safety tests. Most tests will serve to validate that the earth resistance protection is in compliance with industry requirements. Our team tests that this complies with safety guidelines, in addition to operator leakage electrical current, patient leakage electrical current and the insulation resistance. Terrain utilizes calibrated, leading-edge testing equipment to confirm that all of these parameters are in the appropriate guidelines for care provider and patient.