Defibrillator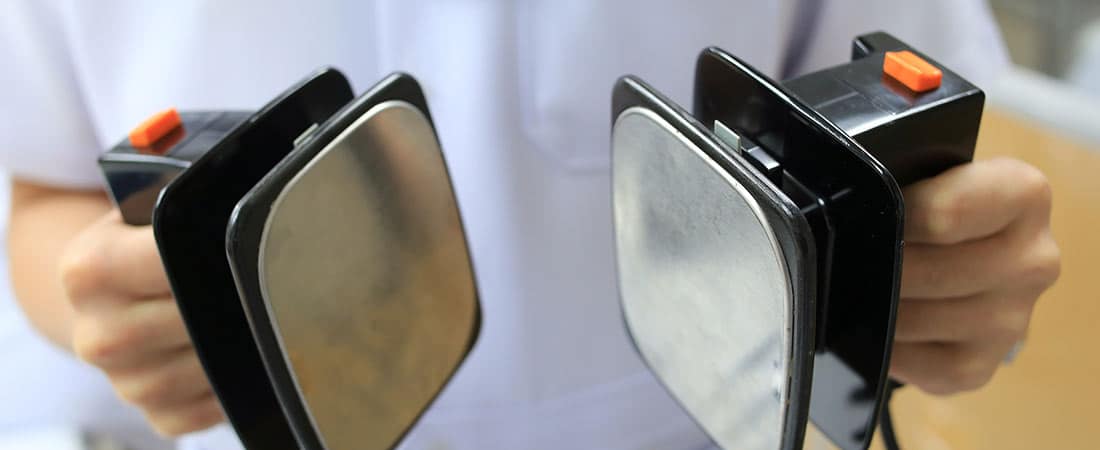 Terrain Biomedical – Defibrillator – 773-697-8400
With state-of-the-industry testing gear and the most innovative and experienced team of biomedical service technicians, Terrain Biomedical presents a wide selection of quality defibrillator models, designs and related solutions. Many of our clients are searching for a reliable and reasonably-priced defibrillator. Our large inventory of refurbished defibrillators can be used in practically any application.
Defibrillator Repairs and Certification Service at Terrain Biomedical
In all aspects of defibrillator repairs, Terrain provides fast turnaround for both single or multi-parameter defibrillators. Our defibrillator certification services assure that your medical equipment is always in top operational condition. Our staff can also fulfill your continuous defibrillator certification needs by creating a convenient maintenance program to remove the worries and daily hassle of locating and scheduling a reliable biomedical engineer. Terrain Biomedical offers regular maintenance services for a diverse variety of clients in a range of medical settings.
We recondition all makes and models of defibrillators. Some of the most popular defibrillator brands we service are Hewlett Packard, Phillips and Zoll.
Repairs, Certification, Rentals and Calibration for Defibrillators
Terrain Biomedical stocks a large selection of reconditioned and certified defibrillators for use all across the nation. We also provide medical equipment rentals for defibrillators and a whole host of other essential equipment with same-day pickup and delivery services in some markets. All of the defibrillators at our facility are restored to the original equipment manufacturer's standards and carry a warranty by Terrain Biomedical. In addition, we have defibrillator accessories for sale like paddles, carts, carrying cases and cables. Call Terrain Biomedical to learn more about defibrillators at 773-697-8400.
Defibrillator Preventive Maintenance and Calibration
Minimizing equipment downtime is important to the ongoing efficiency of your facility's operations. Terrain Biomedical encourages consistently scheduled preventive maintenance plans to prevent interruptions in patient care and to fulfill legal requirements. Even for customers who maintain their own maintenance staff, the upkeep of sophisticated medical equipment can often become a time-consuming challenge. Our engineer staff understands precisely what every component and piece of medical equipment is and isn't designed to do. The excellent level of customized service offered through our preventive maintenance programs saves money and valuable time by assuring that equipment performs in accordance to high standards.
A Few General Provisions Regarding Preventive Maintenance Plans:
-Yearly equipment inspections according to the guidelines of your particular medical sector.
-Repairs, adjustments and certification as required.
-We'll recommend when parts should be replaced.
Consistent preventive maintenance for any kind of medical equipment is essential – and it also offers multiple benefits. Maintaining medical equipment to remain in accordance with OEM specifications serves to lower long-range costs. It also significantly minimizes downtime and results in less liability issues to your business.
Biomedical maintenance services can not only assure that equipment stays certified, it also helps to identify problems before they require taking medical equipment out of service. In the larger picture, regular maintenance boosts the overall efficiency of your facility.
A lot of patient care providers can't determine the benefits of quality equipment in a medical setting until it malfunctions. The usage of medical equipment is fundamental to the reliable monitoring and delivery of true quality care. Preventive maintenance enables your facility to deliver excellent services while also adhering to high standards and safe practices.
Defibrillator – Since our company's founding, Terrain Biomedical has developed a staff of qualified, trained engineers who set us apart from competitors. Today, we're among the top sources of dependable preventive maintenance for biomedical equipment in the whole nation.
A primary focus of Terrain's maintenance services is to help transition our clients from being reactive to being more proactive – it's a big reason why we're so dedicated to excellent customer care first. We not only perform cost-effective repairs, but we can handle your equipment certification needs too. We also present fast response equipment solutions including onsite and offsite repairs, expert installation, set up, and equipment for rent or lease.
Combining Certification and Maintenance
Terrain Biomedical provides a uniquely full service approach in order to deliver true value and dependable peace of mind to our clients. Combining a maintenance plan with medical equipment certification creates a bundled service that eases a lot of worries and downtime for your facility. Terrain Biomedical offers one-time service choices or continual maintenance plan contracts in which we manage the updating and certifying procedure for you.
Maintenance Services for Defibrillators
Remaining in compliance is very important in any part of the medical field. There are clear guidelines to fulfill with respect to regulatory requirements. Like most devices, defibrillators require regular upkeep for usage in a range of applications and fields. There are not many biomedical service technicians who are qualified to fully inspect and certify a contemporary defibrillator. (Especially because new technology is being incorporated frequently like blue tooth, pacing and synchronization.)
Terrain Biomedical's certified techs can thoroughly evaluate, perform testing and calibrate your defibrillator to conform to OEM standards to assure reliability and safe operation.
Comprehensive Service – Medical Equipment Maintenance and Repair
At Terrain, we have an entire, total-service medical equipment repair capability. This is the key difference among our company and our competition. We don't just monitor the issues and offer feedback: we present solutions and affordable pricing for the repair of your equipment.
As another value to our professional preventive maintenance solutions – we can perform immediate corrective maintenance and repairs. Whether you need us on-location or to perform the services at our own facility, we can provide very fast turn-around on repairs. Terrain also offers affordable medical equipment rentals on a wide selection of quality products. We understand that in the patient care industry timing is everything.
Industries Served
While some biomedical technicians are able to identify a problem, they are not always able to resolve it. At Terrain Biomedical, we have the unique capability to repair equipment in sectors including: general patient examination rooms, ambulatory surgical centers, treatment centers, dental sedation, home-based rehabilitation, physical therapy facilities, recovery centers, assisted living, universities, animal care facilities and more. We also provide options for medical equipment rentals to help sustain your business. Register today with a cost-effective preventive maintenance strategy that works for you. Contact Terrain Biomedical at 773-697-8400 to sign up or to learn more.
A Few Basics About Defibrillators
-This essential piece of equipment is also referred to as an Automated External Defibrillator, a Wearable Cardioverter Defibrillator or an Implantable Cardioverter Defibrillator.
-Defibrillators are basically medical devices that can restore a heartbeat by directing an electrical pulse to the heart. They can be used to prevent or to correct an arrhythmia, an irregular heartbeat or a heartbeat that's too slow or too rapid. Defibrillators can restore a heartbeat in the event it stops beating suddenly.
-Different varieties of defibrillators function in various ways. Automated external defibrillators, which are frequently equipped in public areas, were manufactured to save the lives of people who experience cardiac arrest. Even an untrained bystander can use these in an emergency situation.
-Other types of defibrillators can avoid sudden fatalities for people who carry a risk of arrhythmia. These include wearable cardioverter defibrillators and implantable cardioverter defibrillators. It can require some time to get accustomed to living with an implanted defibrillator, and it's important to know the potential risks.