Anesthesia Monitors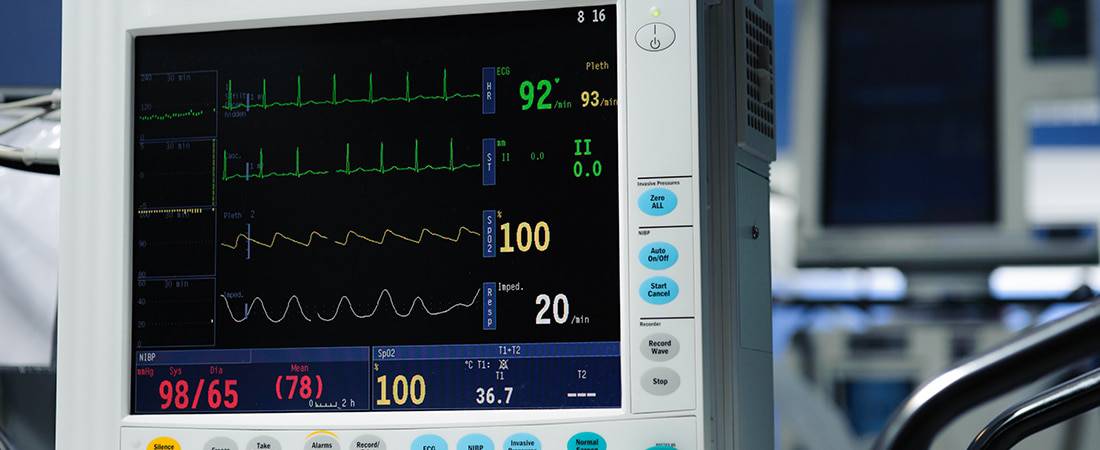 Anesthesia Monitors – Terrain Biomedical – Reconditioned Medical Equipment – 773-697-8400
When conducting any form of surgical procedures that involves the administration of an anesthetic, medical care providers need a quality anesthesia monitor they can rely on every day. Terrain Biomedical provides a wide selection of new and pre-owned anesthesia monitors that are equipped the kind of features care providers require: multiple-lead ECG monitoring, SPO2, anesthetic five agent bench, EtCO2, waveform displays, optional wireless connectivity and more.
Terrain Biomedical rents, sells, repairs and maintains top quality reconditioned monitors from many of the best brands on the marketplace such as Mindray/Datascope, Philips and GE.
Gas Monitoring Methods are mainstream or sidestream. Identified gases are Isoflurane, Halothane, Sevoflurane, Enflurane, Desflurane, Oxygen, Co2/etCO2 and N2O.
Terrain Biomedical has had Anesthesia Monitors for sale and rent since 2006. We verify that all of the anesthesia monitors we stock are carefully calibrated and in compliance with original specifications for optimal performance. Customers have the choice to buy or rent medical equipment from our company.
Cost Effective Monitoring Equipment and Services for Mild Sedation – Refurbished Anesthesia Monitors
Lately in the dentistry environment, there have been new patient monitoring standards implemented for the application of mild sedatives and general anesthetics. These standards are being practiced increasingly in other areas including many varieties of outpatient surgery.
Conscious sedatives are typically used in diagnostic assessments and in treatments including: bladder conditions cystoscopy, endoscopy, plastic surgery, reconstructive surgery, colonoscopy, bronchoscopy, bone fracture repairs and breast biopsy.
Terrain Biomedical provides a variety of affordable solutions for dependable anesthesia monitors.
The GE Dash Series
This series of reliable patient monitors are flexible and easy to operate devices that makes accurate monitoring of each patient simple. Because your facility strives to provide each patient with personalized healthcare, the GE Dash series of monitors offers the relevant and precise information your staff needs.
GE Dash monitors present a flexible, modular and transportable design concept that permits care providers to monitor patients as needed. Each monitor in the series are adaptable to each patient's needs in practically all forms of higher acuity cases. These dependable monitors offer doctors and nurses the clinical information they need to issue informed decisions on treatment care.
GE Dash monitors are conveniently portable which allows them to be relocated easily in between different areas of a hospital. They are available with optional batteries that last for as long as five hours and can be changed without losing power. Their mobility and wireless options permit the user to monitor emergency vehicle patients as well. GE Dash monitors can continually monitor a patient which enables a customized information flow to inform treatment decisions.
GE Dash Patient Anesthesia Monitors Perform Anywhere in Your Facility
Very few systems can provide the versatility of the innovative GE Dash series in just one platform. They prevent false alarms by utilizing complex algorithms that are founded on the vital patient information it collects. The user can set up the devices by simply adding selected features to accommodate various acuities to suit patients regardless of their care strategy.
-GE Dash 2000: Easy to operate, 5.8 inch display
-GE Dash 3000: Lightweight and sturdy, 8.4 inch display
-GE Dash 4000: Comprehensive bedside monitor, 10.4 inch display screen. Reliable performance, versatile monitor that offers complete data even while in transport. Rugged design enables easy relocation and handling. Optional wireless capabilities allows the choice to move the unit with the patient.
-GE Dash 5000: This unit's 12.1 inch screen is easy to read and conduct frequent functions. It's this unmatched versatility of this series of Anesthesia Monitors that make them such a good choice for every area in your medical facility.